While buying a home may seem daunting, the more you understand about the process, the easier it becomes. A competent Realtor will also be able to guide you and can make the process much more manageable, ensuring a smooth experience. That is how our team can help!
We put together this article with the most popular questions asked by home buyers to help you familiarize yourself with the process. You can also Contact Us at any time with questions.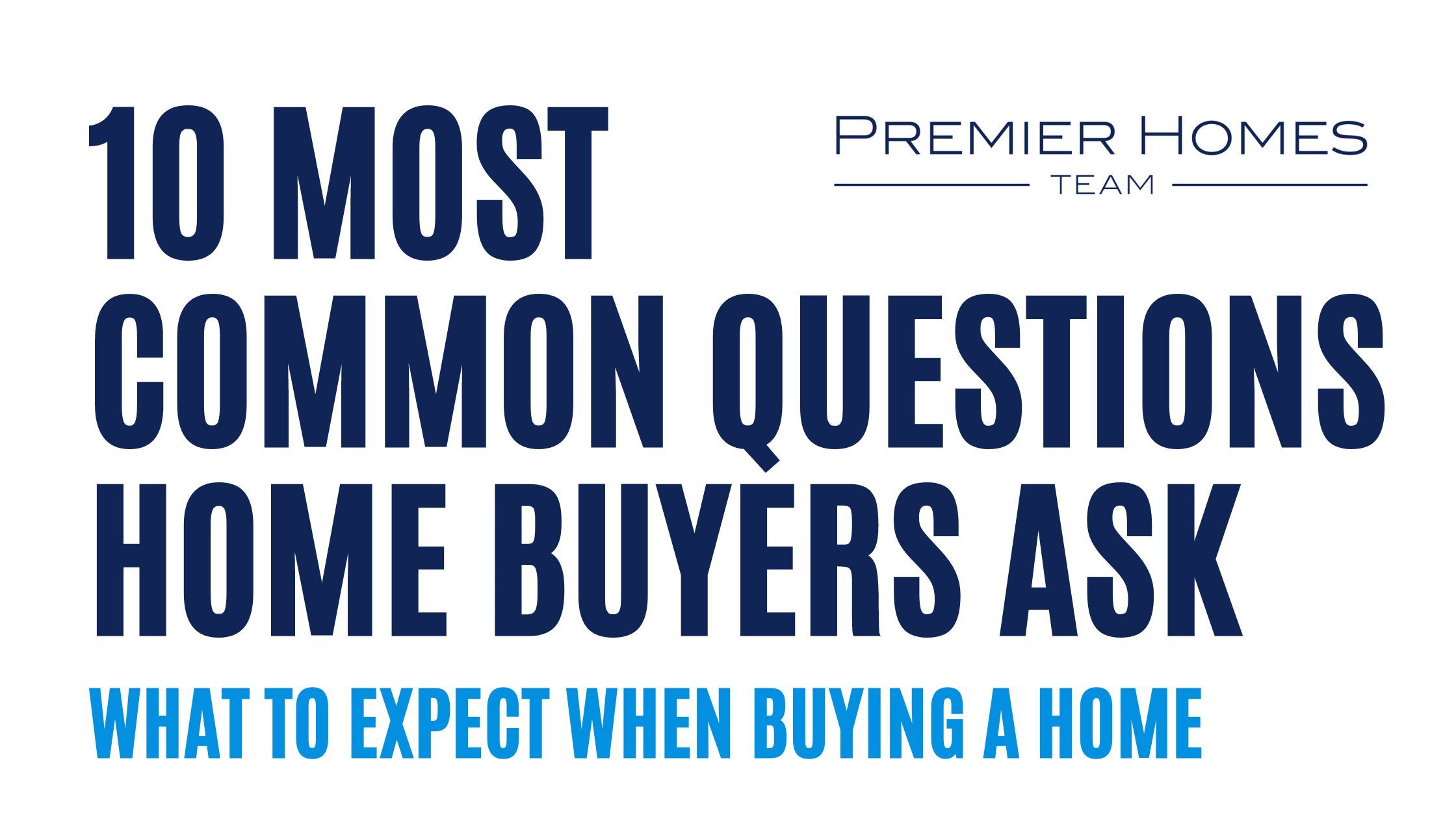 1 - What's the first step of the home buying process?
The Mortgage Pre-Approval.
Obtaining a mortgage is typically necessary unless you have sufficient funds to purchase a house outright. To determine the amount of home you can afford, it is crucial to undergo a pre-approval process for a loan. This serves as the initial step in the home-buying journey.
Getting pre-approved for a mortgage involves working with a lender who assesses your financial situation, including factors like income, credit history, and debt-to-income ratio. Based on this evaluation, the lender provides you with a pre-approval letter stating the maximum loan amount you are eligible for. This information allows you to search for homes within your budget and signals to sellers that you are a serious and qualified buyer.
2 - How Long Does It Take To Buy A Home?
Around 30 to 45 days
The timeline for finding the perfect house can vary significantly from person to person. It depends on various factors such as individual preferences, market conditions, and availability of suitable properties. However, once you finally discover the home of your dreams and have your offer accepted, the typical duration for closing the deal is around 30 days.
It's important to note that while 30 days is a common timeframe, it's not set in stone and can vary depending on specific circumstances.
3 - What Does A Realtor Do?
Almost Everything
A Realtor, also known as a real estate agent, plays a crucial role in the process of buying or selling property. They are licensed professionals who specialize in assisting clients with real estate transactions.
There is a difference between a Realtor and a real estate agent; many people do not know this. A Realtor is regulated by the National Association of REALTORS® and subscribes to a strict Code of Ethics. A real estate agent does not. Therefore, it is recommended that you work with a licensed Realtor to get the best service.
Here are some of the key responsibilities and services provided by a Realtor:
Property Expertise: Realtors have in-depth knowledge of the local real estate market. They can provide valuable insights into neighborhoods, property values, market trends, and comparable sales data. This expertise helps clients make informed decisions when buying or selling a property.

Buyer Representation: When you are purchasing a home, a Realtor acts as your advocate. They understand your needs and preferences, and they help you find suitable properties. Realtors have access to multiple listing services (MLS) and can provide you with information about available homes that meet your criteria.

Seller Representation: If you are selling a property, a Realtor can assist with pricing your home, preparing it for sale, marketing it to potential buyers, and negotiating offers. They aim to get you the best possible price for your property within a reasonable timeframe.

Negotiation Skills: Realtors are skilled negotiators who represent their client's interests during the negotiation process. They can help you navigate counteroffers, contingencies, and other contractual aspects to ensure a favorable outcome.

Transaction Management: From start to finish, Realtors handle the paperwork and legal aspects of a real estate transaction. They coordinate with lenders, inspectors, appraisers, and other professionals involved in the process to ensure a smooth and timely closing.

Network and Connections: Realtors have an extensive network of industry professionals, including mortgage brokers, attorneys, contractors, and home inspectors. They can provide referrals to reliable and trustworthy professionals who can assist with various aspects of the buying or selling process.
Overall, a Realtor acts as your guide and trusted advisor throughout the real estate transaction. They bring expertise, market knowledge, negotiation skills, and a network of professionals to help you navigate the complexities of buying or selling property.
4 - How Much Do I Have To Pay a Realtor as a Homebuyer?
In Most Cases, Nothing
As a homebuyer, you typically do not have to directly pay a Realtor for their services. In most cases, the seller of the property pays the commission for both the listing agent (representing the seller) and the buyer's agent (representing you, the buyer).
It's essential to discuss and clarify the terms of the Realtor's commission with your agent early on in the homebuying process. They can provide you with detailed information about how their fees are handled and any potential costs or obligations you may have as a buyer.
5 - What Is the Best Advice for First-Time Homebuyers?
Be Well Informed and Work With A Seasoned Professional
Whether you are a first-time homebuyer, or have bought before, here are some valuable pieces of advice to consider:
Set a Realistic Budget: Determine your financial readiness and establish a budget that reflects your affordability. Consider not just the purchase price but also additional costs like closing costs, property taxes, insurance, and ongoing maintenance expenses. Stick to a budget that allows you to comfortably manage your mortgage payments without stretching your finances too thin.

Get Pre-Approved for a Mortgage: Before you start house hunting, get pre-approved for a mortgage from a reputable lender. This step will help you understand your borrowing capacity, streamline the home search process, and demonstrate your seriousness as a buyer to sellers.

Prioritize Your Needs vs. Wants: Make a list of your must-haves and nice-to-haves in a home. Consider factors like location, size, layout, amenities, and proximity to schools or workplaces. This will help you focus your search and make more informed decisions.

Work with a Knowledgeable Realtor: Beware of part-time agents, and people that have not been in the industry for very long. Partner with a reliable and experienced Realtor who understands your needs, local market conditions, and can guide you through the homebuying process. They will assist you in finding suitable properties, negotiating offers, and navigating the complexities of the transaction.

Do Thorough Research: Conduct comprehensive research on the neighborhoods you're interested in, including factors like safety, schools, transportation, and property values. Visit the areas at different times of the day to get a feel for the community and determine if it aligns with your lifestyle.

Don't Rush: Take your time and avoid rushing into a purchase. It's better to wait for the right property that meets your needs and fits within your budget rather than settling for something less than ideal.

Understand the Costs Involved: Be aware of all the costs associated with homeownership, including mortgage payments, property taxes, insurance, utilities, and maintenance expenses. Plan your budget accordingly to ensure you can comfortably afford these ongoing costs.

Be Prepared for Unexpected Expenses: Set aside funds for unexpected expenses that may arise during or after the purchase. This can include repairs, renovations, or unexpected changes in financial circumstances.
Buying a home is a significant decision, and it's crucial to approach it with patience, knowledge, and careful consideration. Being well-informed and seeking professional guidance will help you navigate the process smoothly and increase your chances of finding the right home.
6 -What Kind of Credit Score Do I Need to Buy a Home?
Typically 620 or Higher
While there is no fixed minimum credit score required to purchase a home, a score of 620 or higher is often considered the threshold for many conventional mortgage loans. However, some lenders may require a higher score.
It's important to note that different types of mortgage loans have different credit score requirements. For example, government-backed loans like FHA (Federal Housing Administration) loans typically have more lenient credit score requirements, with minimum scores ranging from 500 to 580. However, a higher credit score can still improve your chances of approval and help you secure more favorable loan terms.
In addition to credit scores, lenders also consider other factors like your income, employment history, debt-to-income ratio, and overall financial stability when assessing your mortgage application.
7 - Are There Special Home Buying Programs That I Should Know About?
Yes - There Are Multiple Loan Program Available
There are several special home-buying programs that you should be aware of. These programs are designed to assist specific groups of homebuyers or provide financial support for individuals seeking to purchase a home. Here are a few examples:
FHA Loans: The Federal Housing Administration (FHA) offers mortgage loans with more lenient credit score requirements and lower down payment options. FHA loans are particularly beneficial for buyers with lower credit scores or limited funds for a down payment.

VA Loans: The Department of Veterans Affairs (VA) provides VA loans for eligible military service members, veterans, and their spouses. These loans offer competitive interest rates, low or no down payment options, and don't require private mortgage insurance.

USDA Loans: The U.S. Department of Agriculture (USDA) offers loans for homebuyers in rural and suburban areas. USDA loans provide low-interest rates, no down payment options, and are specifically designed to promote homeownership in eligible rural communities.

First-Time Homebuyer Programs: Many states, cities, and counties offer programs specifically tailored for first-time homebuyers. These programs may provide down payment assistance, closing cost assistance, or offer favorable loan terms and interest rates. Often times these programs have a fixed amount of funds available, and once those funds are used, the programs are no longer available.
Our lenders can provide information about any special home buying programs or incentives you may qualify for.
8 - How Much Money Do I Need For A Down Payment?
It All Depends on the Loan You Are Getting
The amount of money you need for a down payment can vary depending on several factors, including the type of mortgage loan, the purchase price of the home, and the lender's requirements. Here are some general guidelines:
Conventional Loans: Conventional loans typically require a down payment of at least 5% to 20% of the purchase price. However, if you can make a down payment of 20% or more, you may avoid paying private mortgage insurance (PMI), which is an additional cost that protects the lender in case of default.


FHA Loans: FHA loans, backed by the Federal Housing Administration, offer more flexible down payment options. You can qualify for an FHA loan with a down payment as low as 3.5% of the purchase price. However, keep in mind that FHA loans require paying upfront and ongoing mortgage insurance premiums.


VA Loans: If you're a qualifying military service member, veteran, or eligible spouse, VA loans provide the opportunity for no down payment at all. These loans are backed by the Department of Veterans Affairs and are a significant benefit for those who qualify.


USDA Loans: USDA loans, designed for rural and suburban homebuyers, offer the possibility of no down payment. However, the property must be located in an eligible USDA rural development area.
It's important to note that while a higher down payment is generally advantageous as it reduces your loan amount and can reduce your interest rate, which in turn reduces your monthly mortgage payments. A larger downpayment may not always be necessary or feasible.
A lender will be able to help you explore different loan programs to understand their specific down payment requirements.
It is also important to consider your financial situation, long-term goals, and affordability when determining how much you can comfortably put towards a down payment.
9 -What Other Fees Are There, Besides the Downpayment?
Inspection Fees, Loan Fees, Escrow, and Title Insurance
In addition to the down payment, several other fees and costs are associated with buying a home. These can vary depending on factors such as location, the type of property, and the specific terms of the purchase. Here are some common fees to consider:
Closing Costs: Closing costs are expenses incurred during the closing process of a real estate transaction. They typically range from 2% to 5% of the purchase price and can include appraisal fees, escrow fees, title insurance, loan origination fees, and credit report fees. It's important to carefully review the closing disclosure provided by your lender to understand the specific closing costs you will be responsible for.

Home Inspection Fees: Before purchasing a home, it's recommended to have a professional home inspection done. The cost of a home inspection varies depending on the size and complexity of the property but typically ranges from a few hundred to a few thousand dollars. The inspection fee is paid directly to the inspector.

Appraisal Fees: Lenders often require an appraisal to determine the value of the property. The appraisal fee is typically paid by the buyer and can range from a few hundred to several hundred dollars.

Property Taxes and Insurance: As a homeowner, you will be responsible for property taxes and homeowners insurance. Property tax amounts vary based on the assessed value of the property and local tax rates. Your property taxes and Home Owners Insurance will be "pre-paid" at the close of escrow, and the amount will vary based on the month you buy your home.

Moving Costs: Don't forget to factor in the cost of moving your belongings from your current residence to your new home. This can include hiring professional movers, renting a moving truck, purchasing packing supplies, and any storage fees if needed.
It's important to budget for these additional costs and work with your real estate agent, lender, and other professionals involved in the transaction to clearly understand the anticipated fees. This will help you avoid any surprises and ensure you are financially prepared for the home buying process.
10 - When do I get the keys?
At The Closing
The timing of receiving the keys to your new home can vary depending on the specific terms and conditions outlined in the purchase agreement and closing process. In most cases, you will receive them the day escrow closes.
Here are a few scenarios to consider:
At Closing: In most cases, you will receive the keys to your new home immediately after the closing process is complete. This means that once all the necessary documents are signed, funds have been transferred, and the sale is officially recordered, you can take possession of the property and receive the keys.

Rent Back: There may be situations where the seller remains in the home after the closing. This could occur if specific arrangements are made between the buyer and seller, such as a rent-back agreement. In a rent-back agreement, the seller remains in the home for a specified period after closing, allowing them more time to move out or transition to their new residence.

Early Possession: On occasion, there may be an agreement for the buyer to take possession of the property before the official closing date. This arrangement is typically made when both parties agree, and additional terms are outlined in the purchase agreement.
It's important to communicate and coordinate with your real estate agent to determine the specific timing for receiving the keys. They will guide you through the process and keep you informed about any specific details regarding the possession and key transfer.
Conclusion:
Navigating through the multitude of real estate questions can be overwhelming. However, learning this info will have a significant impact when it comes to purchasing your dream home.
When seeking answers, your go-to resource is undoubtedly a reliable Realtor. Contact us today for a free consultation. We would be happy to answer as many questions as you have. We are here to guide you, inform you, and ensure you're well-equipped at every step of the home-buying process.
And remember, while the journey of finding and buying a home can be filled with anticipation and excitement, it's also an achievement to be celebrated. Whether it's your first home or another addition to your real estate portfolio, embrace the emotional rollercoaster and relish in the joy of this significant milestone in your life.
Ready to Find a Home You Love?
We'll lead you through this journey from start to finish.
Lets Get Started
What Our Clients Are Saying
Overall I would not hesitate to recommend Glen to my close friends and family and would definitely utilize his services should I return to San Diego.
Working with Glen was a HUGE privilege as he and his team provided concierge level service at no cost increase to competitors. I had moved out of state and wanted to sell my San Diego home remotely. Glen's team took care of EVERYTHING, from prepping the home (scheduling landscapers, repairs, etc) to staging and pictures to finalize the transaction - I hardly had to lift a finger. This was ideal as I was getting married during the time of the home sale and it was no added work on my part. Above all, the sale price of the home was as projected and I was very happy with the amount it was sold for. Overall I would not hesitate to recommend Glen to my close friends and family and would definitely utilize his services should I return to San Diego.
It was the easiest selling process I ever experienced from listing to sale. Thanks Glen and team!!!!!
I interviewed five realtors and where they all seemed very nice, I chose Glen Henderson. Glen suggested selling for $50,000- 100,000 over the other realtors suggesed listing price. Glen saw the potential of a large basement that could be utilized as additional 400 square feet of living space. He also made excellent suggestions to help with the sale. Glen was always professional, timely with his repsonses and really listened to my opinions on the sale. The home sold for $19,000 over listing which I don't believe I would have received if I went with one of the other realtors lower listing price. Frank, Glen's assistant was also great to work with. Frank was always friendly and quick to respond with any questions I had. It was the easiest selling process I ever experienced from listing to sale. Thanks Glen and team!!!!!
You will be lucky if you get to have him as your Realitor.
I want to share that I am extremely grateful for Glen Henderson from big block realty. I cannot express how helpful, kind and personable Glen has been. Since our initial meeting he was able to listen to my story and provide me with a clear plan to make sure everything was ready for my house to be sold. There were a few moving parts in my situation and I honestly would have been so lost in this process if it were not for him - he walked me through every step of the way and went above and beyond by connecting me with contractors, lawyers and all the other trusted sources I needed to make this process as smooth as possible. I am recommending Glen to everyone, not only for his professionalism and everything he did for our home to be sold - but for being so supportive and helpful! You will be lucky if you get to have him as your Realitor.